About Our Staff
Stephen A. Lavallee, DVM
Dr. Stephen Lavallee is a 1998 graduate of the University of California, Davis, School of Veterinary Medicine. He specializes in companion animal medicine and lives in Lakeville with his wife, daughter, two sons, and two dogs.
Dr. Lavallee enjoys spending his free time with his family, coaching, playing hockey, and watching sports.

Dr. Lavallee's calm and reassuring manner makes your pet's visit less stressful. Dr. Lavallee believes in client education and takes time during your visit to explain any diagnoses or treatments that may be necessary and answer any questions that you may have regarding your pet's health.
Member:
Veterinary Hospitals Association (VHA), Minnesota Veterinary Medical Association (MVMA), American Veterinary Medical Association (AVMA)
---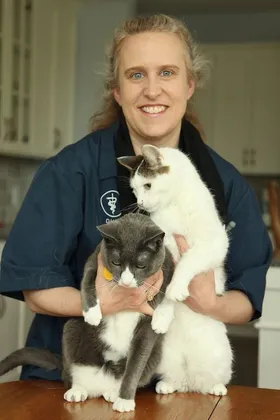 Lisa Johnson, DVM
Dr. Lisa Johnson comes to New Prague Animal Care with over 14 years experience treating small animal patients in Minnesota. After graduating from Iowa State University College of Veterinary Medicine, she began her career in Faribault, Minnesota, eventually moving on to the metro area.
Dr. Johnson currently lives in Eden Prairie with her husband, 3 young daughters, and their elderly cats. Dr. Johnson enjoys treating pets over their lifetime watching them grow from cuddly puppies and kittens to beloved senior pets, and looks forward to meeting the clients and pets of New Prague.
---
Our caring staff will:
Answer your pet health questions;
Assist with your emergent and urgent pet care needs;
Educate you regarding their pet's health condition;
Explain treatment and medication dosing;
Follow up after illness to make sure your pet's health is back to normal;
Describe treatment plans and potential outcomes;
Discuss health maintenance and vaccination schedules;
Inform you regarding the risks of potential zoonotic disease and inform you of parasite prevention in your pets so that we can keep your family and your pets healthy;
Treat your pet with kindness and gentle care.